Please click for cabin layouts and pricing options.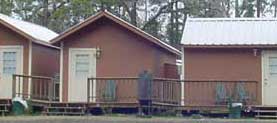 We have many fully furnished cabins, many were built in February of 2001. Some of the cabins include a kitchen, while all of them will include a shower and T. V. with the latest and greatest cable programming. For the most luxurious camping experience choose one of our cabins for your family.
All of the cabins and R. V. sites include free cable Tv for your entertainment pleasure. We currently have 65 R. V. sites all wrapped in the ultimate beauty that is Lowes Creek Park. All of the R. V. sites include power (30 and 50 amp service is available), water and cable tv hookups. There is also a waste dump located in the park for your convince. For those that require a pull through R. V. site, several are available to choose from. The R. V. sites come priced as low as $17.50 a night. Please contact us for exact rates and reservations.
For the camping aficionado who requires a fire, tent and the ground as a bed we offer primitive camping sites on the luxurious waterfront of the lake. Camping out under the stars has never been this great. Your campsite will be heavily shaded by natures own 120 foot tall majestic trees.
Don't forget we have a full service store stocked full of food, bait, tackle and ice. We also offer less bugs per campsite than any other park in the area. When it comes time for supper head over to our cook house, available free to our guests at the park and cook up a feast for one and all. Eat in the pavilion to enjoy the company of the other residents.